The 2018-19 Commonwealth Budget was signed by Governor Wolf on June 22, 2018.
2018-19 Proposed Budget (Introduced by Governor Tom Wolf, February 6, 2018)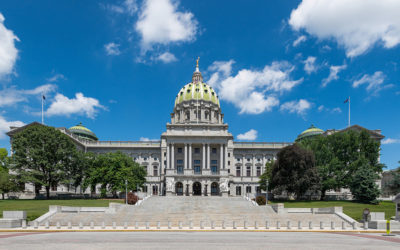 HARRISBURG, PA − June 22, 2018 − The Pennsylvania Senate passed the state budget for Fiscal Year 2018-19 (House Bill 2121) by a vote of 47-2. "In January, the Senate Democratic caucus outlined our priorities for the year and this budget puts the money where our mouths...
read more
Budget Address Highlights
Watch highlights of Gov. Tom Wolf's fourth budget address and our members reactions following.
Tuesday, February 20, 2018
10:00 am –Treasury Department
1:00 pm – Independent Fiscal Office
3:00 pm – Approved Private Schools/Charter School for the Deaf & Blind
4:00 pm – Pennsylvania Intermediate Units
Wednesday, February 21, 2018
10:00 am – Department of State
1:00 pm – Auditor General
3:00 pm – Attorney General
Thursday, February 22, 2018
10:00 am – PA State System of Higher Education
1:00 pm – State Police/Homeland Security
3:00 pm – PA Emergency Management Agency/Fire Commissioner
Monday, February 26, 2018
10:00 am – Department of Labor & Industry
1:00 pm – Department of General Services
3:00 pm – Department of Transportation
Tuesday, February 27, 2018
10:00 am – State Related Universities
1:00 pm – Judiciary
3:00 pm – Pennsylvania College of Technology
4:00 pm – Inspector General
Wednesday, February 28, 2018
10:00 am – Department of Military and Veterans Affairs
1:00 pm – Department of Agriculture
3:00 pm – Department of Conservation & Natural Resources
Thursday, March 1, 2018
10:00 am – Department of Corrections/Board of Probation and Parole
1:00 pm – PA Liquor Control Board
3:00 pm – Department of Environmental Protection
Monday, March 5, 2018
10:00 am – PA Gaming Control Board
1:00 pm – Department of Revenue/Lottery
3:30 pm – Department of Community & Economic Development
Tuesday, March 6, 2018
10:00 am – Department of Education
1:00 pm – Department of Aging
Wednesday, March 7, 2018
10:00 am – Department of Health
1:00 pm – Department of Human Services
Thursday, March 8, 2017
10:00 am – Department of Drug & Alcohol
1:00 pm – Budget Secretary/Sec. of Admin./Gov's Executive Office