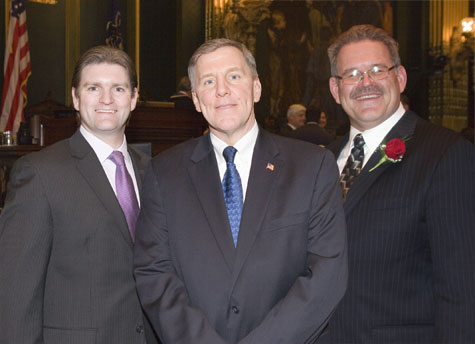 In a noon swearing-in ceremony at the Capitol on Tuesday, 25 state Senators were administered the oath of office.
Three of them will be representing Pennsylvania Senate Districts for the first time.
Meet our new members.

Congratulations to all! I look forward to a productive 2011.
Good economic news for Pennsylvania: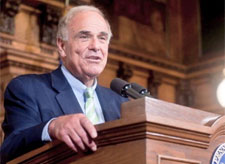 This week, Governor Rendell announced that halfway through the state's fiscal year, Pennsylvania has collected $191.2 million, or 1.7 percent, more revenue than anticipated.
Collections for December are 15.5 percent better than December 2009 and this is the first time since 2007 that Pennsylvania's collections exceeded estimate at the halfway point in the fiscal year.
Every major tax category came in above estimate for the month of December:
Corporate taxes are above estimate by 8.1 percent;
Sales tax is above estimate by 4.9 percent; and
Personal income tax is above estimate by 12.2 percent.
Revenue collections for December were $2.3 billion, which was $176.9 million, or 8.4 percent, more than anticipated. For the fiscal year-to-date, General Fund collections total $11.5 billion, which is $191.2 million, or 1.7 percent, above estimate.
For more information, visit www.revenue.state.pa.us.
We need to maintain this positive momentum and be sensitive to those Pennsylvanians who are still weathering this difficult recession. Look for our Senate Democratic Plan to keep Pennsylvania on the right path in the coming weeks.
Stay Connected
For updates on this and other legislative initiatives, stay in touch with me on the Internet through my website or on Facebook.