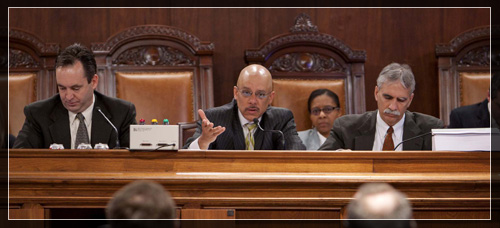 This week, the Senate Appropriations Committee began three weeks of budget hearings which will give us important information as we move forward in the process of completing our 2011-2012 state budget and bridging a $4 billion deficit.
During these hearings, Department Secretaries, as well as the heads of independent agencies and state-related universities which receive state funding, explain their budgetary needs and, in some instances, make their case for the governor's budget. This week, there were a number of exchanges, as we all seek to assess the potential impact of the draconian cuts laid out by Governor Corbett earlier this month.
The very crowded and lengthy hearing for the State-Related Universities (University of Pittsburgh, Penn State, Lincoln University, Temple University) brought forth testimony which I feel further illustrates the shortsightedness of cutting funding to our higher learning institutions. Governor Corbett has proposed a 50 percent cut in institutional assistance grants for private higher education institutions from $30 million to $15 million. That is in addition to a 53% reduction in total funding to PA's public (State System) universities.
Senator John Blake (Lackawanna/ Luzerne/Monroe), who is a former Department of Community and Economic Development Secretary and has spent decades working to lure businesses to Pennsylvania, said it best during Wednesday's hearing for the State-Related Universities. During his turn questioning university leaders, he said "I look at this budget and I think it is the worst economic development strategy upon which we can embark."
During another interesting exchange, the governor's Budget Secretary, Charles Zogby, compared the Corbett administration to bank robber Willie Sutton when he said that the administration targeted higher education for cuts because that is "where the money is." A senator from his own party later responded to Zogby by explaining that Sutton hadn't built the banks that he robbed.
Media coverage of the budget hearings has been extensive. If you are interested in reading more about what transpired this week, please visit the Senate Democratic Caucus website.
You can also watch the upcoming hearings. We stream them live at www.pasenate.com.
Just to give you a few of the facts:
The U.S. Dept of Commerce estimates that every $1 million in research spending directly and indirectly creates 36 jobs. These high-paying, knowledge-based jobs help attract scientists and physicians to Pennsylvania and promote a culture of innovation and technology.
Each $1 billion of NIH research grant funding reportedly creates more than 15,000 jobs with an average wage of $52,000 a year and generates $2.21 billion of new business activity.
Universities create jobs that create wealth that creates tax revenue. That revenue helps to maintain and strengthen the safety net which protects all citizens.
What do the cuts to the State-Related Universities mean for Pittsburgh?
Pittsburgh has rebuilt its reputation and transformed from a heavy-metal town to a high-tech economy. The education, research and biomedical sectors helped to make this possible. We can't risk going down the road the governor hopes to take us down. Doing so would stall our continuing efforts to improve our region's health and economic growth.
Pitt was awarded $737 million in research funding in fiscal 2009, more than $700 million of which came from non-Pennsylvania sources. Aside from offering tremendous opportunities for research, that funding alone also supports more than 26,000 jobs in Pennsylvania and represents a $4 return on every $1 of Pitt's state appropriation.
At Pitt, which ranks in the Top 10 of university recipients of federal science and engineering research awards, the Office of Technology Management is creating new business opportunities out of ideas emerging from the lab and classroom. Over the past seven years, OTM's efforts have helped start 40 companies in Pennsylvania -- start-ups that create employment and generate tax revenue for local and state coffers.
During the past three years, the university has averaged $140.7 million in construction projects annually, which generated 1,300 jobs and $51 million in personal income.
This week's op-ed submitted by Dr. Arthur S. Levine who is the University of Pittsburgh's Senior Vice Chancellor for Health Sciences and Dean of the School of Medicine to the Pittsburgh Post-Gazette is both compelling and alarming.
Excerpt from
Statement of Chancellor Mark A. Nordenberg
University of Pittsburgh
Pitt's appropriation was cut in six of the last ten fiscal years, and trend lines for the last eight years are revealing - with inflation rising by more than 20 percent, state spending increasing by nearly 40 percent, and state support for basic education climbing by more than 60 percent, but with support for higher education remaining flat. It is absolutely clear, then, that Pitt's no-growth appropriation did not contribute in any way to what some have described as the state spending run-up of the last eight years. In fact, when inflation is factored in, the University suffered significant losses to the purchasing power of its appropriation.
Even with this erosion in state support, Pitt has continued to honor its end of the tuition differential agreement that sits at the heart of its state-related status. Pennsylvania is home to four universities that are members of the Association of American Universities, widely regarded as the top sixty-three research universities in the United States and Canada. Two - Pitt and Penn State - are public, and two - Carnegie Mellon and the University of Pennsylvania - are private.
At Pitt, the tuition charged an undergraduate student enrolled at the University's main campus is just over $14,000 per year - which is high by national public university standards, reflecting comparatively low levels of state support. Penn State's tuition is comparable. However, charges at our private AAU counterparts exceed $40,000 per year - a gap of more than $25,000. Put another way, that single-year gap between public and private university charges is almost enough to pay for two full years of Pitt's in-state tuition.
Until next week, I leave you with a great story about Pittsburgh and the efforts to strengthen our regional economy — Changing Gears: Reinventing Pittsburgh.


Stay Connected
For updates on this and other legislative initiatives, stay in touch with me on the Internet through my website or on Facebook.