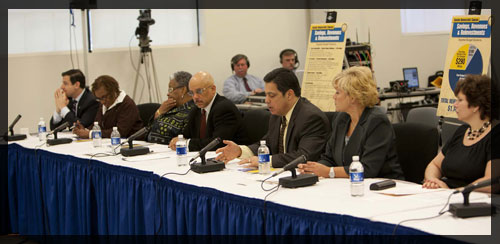 April 14, 2011 - Senate Democrats unveiled a budget plan that underscores their budget priorities and includes $1.14 billion in total savings, new revenues and efficiencies.
Last week, my colleagues and I held a policy hearing in Philadelphia to discuss our PA Works initiative. The PA Works plan is designed to create tens-of-thousands of new jobs and re-energize business. At the hearing, we also shared some ideas about the state budget and how through savings and efficiencies we can find an additional $1.1 billion – funds that can be used to restore key budget lines in education, health care and other areas that were cut in Governor Tom Corbett's budget plan.
The budget priorities we outlined will save Pennsylvania taxpayers from having to bear too much of the burden of some very difficult and painful cuts which were proposed in the governor's 2011-2012 budget.
In laying out our budget savings plan we presented alternatives to the false choices that were part of the governor's plan. We have our own ideas and solutions. We want to make sure that there is shared sacrifice during these tough economic times --- not just a sacrifice from working and middle class families and those who can least afford it.
We feel that the governor's budget plan is balanced on the backs of hard-working men and women, and it gives big business a pass. Senate Democrats believe we can do better. We believe there should be a conversation about ways to cut spending and save valuable taxpayer dollars – while making sure that the needs and interests of working men and women are represented in budget discussions.
The governor's budget is one of misplaced priorities – where corporations continue to get by without sharing in the sacrifice and where painful cuts to education put our future success on shaky ground.
As we said when we, as Senate Democrats, introduced our PA WORKS jobs plan earlier this year, we must never forget those critical investments that create jobs and keep Pennsylvania on the right path – a path that will allow us to compete in a global marketplace that gets more and more competitive by the day.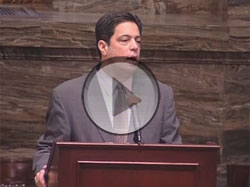 Floor remarks from April 13 on Democratic Budget Plan
These proposals will help to bring us a balanced budget, without making painful cuts that will hinder the success of our school children, pull the safety net out from under those who need it, turn our back on our places of higher learning, and jeopardize much-needed social services.
By making changes and adjustments, streamlining programs and refocusing priorities, we can save over a billion dollars. It requires looking at all areas of government and giving programs – from job training to purchasing – a second look.
Funding critical education and social programs reflects our priorities – priorities that are in the right place.

Click here to learn more about our plan.

Media coverage of Senate Democrats' budget proposal:
Stay Connected
For updates on this and other legislative initiatives, stay in touch with me on the Internet through my website or on Facebook.