PA Works Now – Putting Pennsylvanians Back to Work
As I have continued to stress to my colleagues on both sides of the aisle, creating jobs for Pennsylvania workers needs to be the number one priority in Harrisburg. More than a half-million Pennsylvania workers are unemployed while countless others continue to fear the loss of their jobs.
Earlier this week my Senate Democratic colleagues and I unveiled a job creation initiative that we diligently worked on throughout the summer months to combat Pennsylvania's exceedingly high unemployment rate. The PA Works Now plan builds on our comprehensive job creation plan that we introduced earlier this year by making key investments in public infrastructure and retooling initiatives that will stimulate the economy and create jobs now.
Our PA Works Now plan begins with significant investments in our state's infrastructure. Infrastructure investment creates job immediately and has long-term economic benefits:
$100 infrastructure investment returns $350 to our economy;
$1 billion investment in highway and bridge improvements supports 30,000 jobs
$1 invested in public transportation generates $4 in new economic activity;
$1 billion invested in water and wastewater systems creates 27,000 new jobs and an estimated $82 million in state and local tax revenue.
We cannot afford to sit idly by as Pennsylvania families continue to struggle to pay their bills and put food on the table. It is time for the legislature to enact a comprehensive job creation strategy like PA Works Now and put Pennsylvanians back to work.

Details of PA Works Now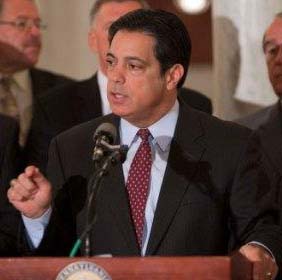 Monday, September 26- Sen. Costa explains the
PA Works Now plan at a Capitol press conference
The PA Works Now investment strategy would create more than 80,000 new jobs. These jobs would provide an immediate economic stimulus. PA Works Now would make use of state resources, leverage private resources and make critical long term capital investments that would create new opportunities for future growth and development.
Create Pennsylvania Investment Bank
The new Pennsylvania Investment Bank would finance transportation projects, water, sewer and other public utility needs, green building investments, information and communication technology initiatives and other capital needs.
The emphasis would be on tailoring financing to create jobs now. The bank would also be able to leverage private dollars to generate even more jobs in the near term.
The Pennsylvania Investment Bank would be capitalized by:
Dedicated dollars from an energy extraction tax paid by gas drillers;
Dedicated surplus state revenues (as we currently do with our Rainy Day fund);
Creative financing and resource management by the State Treasurer and existing state programs.
$1 Billion in new Water & Sewer Investment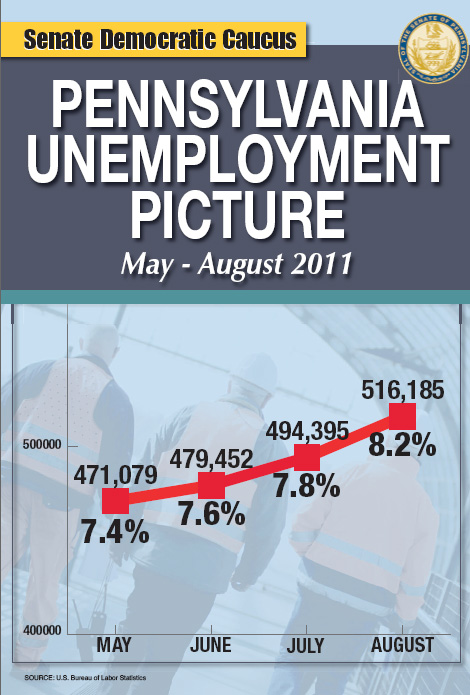 The creation of the Pennsylvania Investment Bank would capitalize $1 billion in new investment for water and sewer infrastructure through PENNVEST and the Commonwealth Finance Authority.
Recapitalize Business in Our Sites Now
New shovel-ready sites could be created by recapitalizing our successful "Business in our Sites" program.
Green Investment Pumps Dollars into the Economy
Public green building investments could be supported for the state, local governments and schools to make new energy efficiency improvements that leverage existing ESCO and High Performance Building investments.
Information and Communication Technology Investments
Capital investments for information and communication technology projects and next generation infrastructure technologies could also be supported, carefully structured to build upon existing private sector commitments.
PA Train-to-Work
Over 500,000 Pennsylvanians remain unemployed, and many of these displaced workers have been without jobs for a year or more. Train-to-Work PA is an employer-driven program coordinated through the Workforce Investment Board in the Department of Labor and Industry. Modeled after the Successful "Georgia Works" program, the program would use federal dislocated worker monies to fund on the job training opportunities leading to permanent employment.
Access to Capital for Business Investment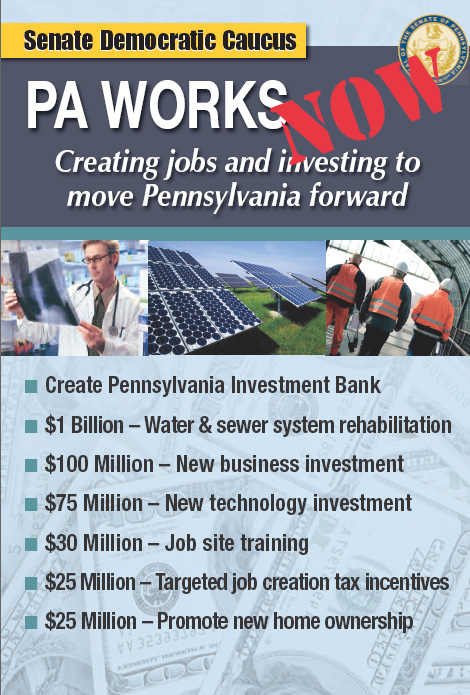 A PA Business Loan Guarantee Program would encourage private lenders to make loans by permitting guarantees of up to 100% of the principal amount of the loan for new investment for borrowers willing to take at least a 10% equity interest in the project.
State programs that finance machinery & equipment and land and building investment are in dire need of capitalization. They are currently only able to lend up to half of their true capacity. Suspending the expected transfer of more than $100 million into the Rainy Day Fund and instead using the funds to recapitalize these loan programs would be a huge stimulus for business investment.
Job Creation Tax Credits
Our current job creation tax credit program has the potential to be a robust job producer with modification. Program modifications should include increasing the credit from $1,000 to $2,000 for a new job or $4,000 when hiring the long term unemployed. For small businesses, a lower job creation threshold should be established while the cap on the total number of credits issued annually should be doubled. Focusing our tax incentives in this way ensures that the tax subsidies actually create new employment.
Housing Revitalization
Our Pennsylvania Home plan would target limited resources to capitalize our State Housing Trust Fund that was created a few years ago, but never funded. The Pennsylvania Housing Finance Agency (PHFA) and the State Treasurer have combined resources to provide incentives for first time home buyers periodically throughout the past few decades. These efforts must be restarted.
PA Works Now: In the News
Dems urge focus on jobs, not 'right wing fringe bills' - Pittsburgh Post Gazette
Democrats announce plans to create 80,000 jobs in PA - WFMZ TV
Senate Dems push revamped 'PA Works Now' to create jobs amid falling employment - Morning Call
Because the conversations that I had with many of you at our series of Town Hall Meetings this Spring were so valuable, I will be holding more town Hall Meetings this Fall. Our first will be on October 10th at 6:30 p.m. I hope you can make it. Please stay tuned for further events in your area.
Stay Connected
For updates on this and other legislative initiatives, stay in touch with me on the Internet through my website or on Facebook.