Free Flu Shot Clinic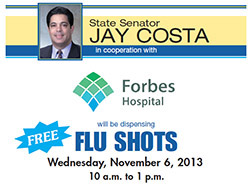 Cold and flu season is quickly approaching. According to the Centers for Disease Control, one of the easiest ways to help prevent the flu is to receive an annual flu vaccine.
I have partnered with Forbes Hospital to host a free flu shot clinic on Wednesday, Nov. 6, from 10 a.m. to 1 p.m. at the Forest Hills/Westinghouse Lodge on Barclay Avenue in Forest Hills.
If you haven't received your flu shot yet, please consider joining us. Click here for directions.


Home Heating Assistance
Pennsylvania's Low-Income Home Heating Assistance Program, LIHEAP, will begin accepting applications on Nov. 4.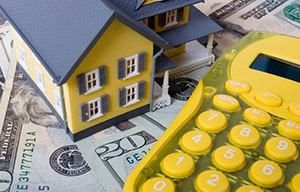 As winter begins to set in across the state, take steps now to ensure you and your family are safe and warm throughout the coldest months to come. Funds for the LIHEAP program are limited, so apply early.
To be eligible for the home heating assistance, an individual homeowner or renter must have an income of $17,235 or less. A family of four must have a household income of $35,325 or less to be eligible.

To apply, customers will need proof of income, social security numbers and dates of birth for all family members and a recent heating bill.
For more information, visit www.compass.state.pa.us or call 1-866-857-7095. Residents seeking application assistance can also contact the Allegheny County Assistance Office at 412-562-0330.
Gov. Extends Pending Lottery Privatization Contract
One again, Gov. Corbett has extended the deadline for the execution of a contract that would privatize the management of the Pennsylvania Lottery.
The Pennsylvania Lottery is an efficiently and effectively run agency that funds critical services benefitting Pennsylvania seniors. The Lottery is exceptionally profitable and stable. In July, the Lottery announced that it hit an all-time sales record of $3.48 billion with profits of $1.1 billion.
Every time the governor extends the contract deadline for this ill-advised privatization bid, he wastes critical funding that could be used to further support programs and services for our seniors. My Senate Democratic colleagues and I continue to ask why the governor would propose a privatization plan that would siphon off dollars intended to help seniors and pay them to a private contractor instead.
While the governor continues to focus his efforts on privatizing our state assets, I have introduced legislation that would create guarantees so that the operations and programs of the lottery do not ever become victimized by private for-profit motives. My proposal, SB 471, would place important accountability procedures and controls into the process and make certain that programs are not jeopardized or workers threatened.
Small Games of Chance Bill Passes the Senate
In October, the issue of small games of chance for taverns was discussed in the Senate. Senate Democrats offered a plan that called for using revenues generated from these games to benefit seniors via the Lottery Fund, instead of having the revenues disbursed to the General Fund.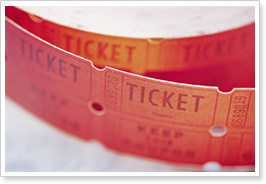 As important, our plan would create a possible funding stream that would allow a property tax freeze for seniors. The Senate Democratic plan was, unfortunately, defeated by Senate Republicans when it was considered by the Senate Appropriations Committee.
However, the plan to permit small games of chance in taverns is now in the House of Representatives for consideration. Unexpectedly, late last month Gov. Corbett signaled his approval of our plan to use revenues to bolster the Lottery. We are hopeful that with the governor's support, our proposal will now be incorporated into the measure when the House takes up the bill later this month.
It is my hope that the final version of the small games of chance legislation includes our idea to direct revenues generated to the Lottery Fund.
Click here to read an article about the Senate Democrats' opposition to Gov. Corbett's proposed lottery plan.
Stay Connected
For updates on this and other legislative initiatives, stay in touch with me on the Internet through my website or on Facebook.