Veteran's Day Luncheon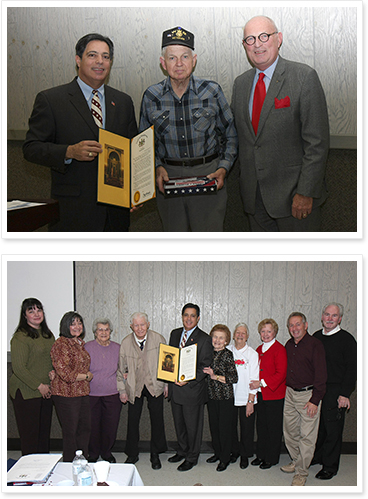 In November I had the pleasure of meeting and having lunch with more 50 veterans and their families at our first annual Veteran's Day Luncheon held at the Forest Hills Fire Department. In just a few hours that afternoon, I heard about a lifetime of service to our country and dedication to the freedoms we enjoy because of their sacrifice. During the luncheon, each veteran was presented with a certificate honoring their service. I was humbled to sit among these true American heroes and their families.
As a special part of this year's event, we presented Senate citations to Paul Goettler and Nicholas Druga. Both of these gentlemen chose to serve in WWII while still in high school. As a result, neither received their well-deserved high school diploma, until earlier this year. Their stories were examples of sacrifice and struggles our veterans endured to protect and defend us. Congratulations to both men on a job well done and mission finally complete!
My sincere thanks go to Rick Colella and his team at the Forest Hills Fire Department for all they did to make this event so enjoyable for everyone. I am looking forward to hosting this event again next year.
If you are a veteran or know someone who is, please contact my Forest Hills office and provide your contact information so that we may send you an invitation to join us next year.
Forest Hills Borough Receives Grant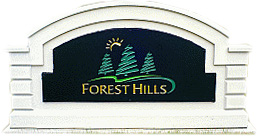 Congratulations to Forest Hills Borough on the receipt of an $88,000 Industrial Sites Reuse Program (ISRP) grant that will provide for an environmental site assessment at the former Atom Smasher site.
The Industrial Sites Reuse Program is designed to spur redevelopment of old industrial and manufacturing sites. Given the industrial heritage of our region, this program is a key that unlocks future development and job creation.
The 12-acre Atom Smasher site sits on land that could be developed in the future. The facility is conveniently located and has ready access to major traffic arteries so it has high development potential.
The ISRP provides grants and loans of up to $200,000 for environmental assessments at brownfield sites and is able to make grants and loans of up to $1 million for remediation.
Click here to read more.
Senate Passes Significant Children Protection Reform Bills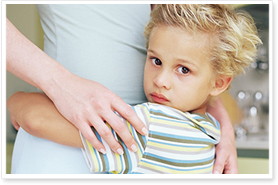 The Senate recently took action to strengthen the commonwealth's child abuse laws and put new protections in place to prevent future abuse.
Working collaboratively with our Republican colleagues, we made progress in addressing key child protection issues. We still have more work to do and we're focused and ready to do it.
When the Senate reconvenes in January, we have more bills to review and discuss. It is our hope that these additional pieces of legislation will be considered quickly and passed with overwhelming support.
Click here to read more.
IUP, ASPCUF Friend of Higher Education 2013-14
I was honored recently to receive the 2013-14 Indiana University of Pennsylvania, Association of Pennsylvania State College and University Faculties (ASPCUF) Friend of Higher Education Award.
I am a proud graduate of IUP, class of 1979. I have always been grateful for the strong faculty and the vibrant, energetic student body who embrace this university and the experience.
Schools such as IUP serve as a community's heartbeat. Not only do they provide quality education and opportunities for students, faculty and the administration to do wonderful things academically, they are economic engines that power the region.
I am grateful for the education I received and the support that I've gotten over the years. I am pleased and greatly honored to receive this award from a tremendous institution and be recognized by APSCUF and President Driscoll.
Happy Holidays
It's hard to believe that Christmas is right around the corner. This year has been filled with so many great moments and wonderful blessings.
Wishing everyone a safe and joyous holiday season full of family and friends great hopes for the year ahead.
Stay Connected
For updates on this and other legislative initiatives, stay in touch with me on the Internet through my website or on Facebook.