Legislative Update from Senator Jay Costa
While the budget and other major issues occupied a significant portion of the General Assembly's time during June, there were other measures considered and moved into position for action. Two pieces of legislation that I sponsored were moved through the legislative process. One was amended into another bill that became law. The other is now poised for a vote before the Senate.
Proposal to Help Address Funeral Expenses Signed Into Law
"Funeral expenses have increased and the current law did not reflect actual costs," Costa, the state Senate Democratic Leader, said. "This change will help families better manage funeral expenses."
Legislation that increases the amount that may be released to family members to pay for funeral expenses prior to an estate being settled was attached to a measure that the governor signed into law as Act 35.
My proposal authorizes the release of up to $10,000 from the decedent's bank account to pay for funeral expenses. Prior to this measure being signed into law, only $3,500 could have been released.
The law authorizing the release of funds has been in place for 40 years and the maximum release amount was last changed in 1993.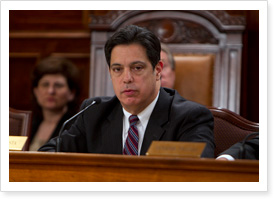 Legislation to Help Persons with Disabilities Positioned for Senate Vote
Under the proposed legislation, funds held in a pooled trust may be shared with persons with disabilities. This measure is now poised for quick Senate action.
The measure, which permits the sharing of funds from a pooled trust with those who need services when a beneficiary dies, has now taken several steps through the legislative process.
The bill was positioned for final passage when the Senate recessed for the summer.
My focus in authoring this legislation was to help families manage health care costs.
"These funds are critical to so many Pennsylvanians with disabilities, giving them access to the services and supports they need every day," Costa said. "This is a good bill and a worthwhile concept."
Under current law, a trust may retain up to 50 percent of a beneficiary's account to be distributed to other beneficiaries. The remaining 50 percent of the account is reimbursed to the state equal to the total amount of Medical Assistance that was paid on behalf of the beneficiary.

Stay Connected
For updates on this and other legislative initiatives, stay in touch with me on the Internet through my website or on Facebook.