Honoring Our Veterans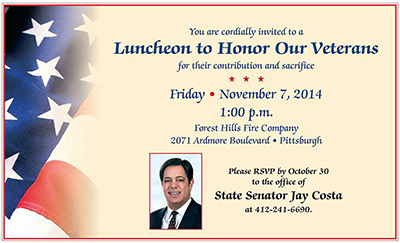 To honor their service and sacrifice in defending liberty, I am proud to invite veterans and their families to join us again this year for our Veteran's luncheon. I can't think of a better way to thank our servicemen and women on a job well done than to provide an opportunity to share a meal and an afternoon.
Please mark your calendar to join us on Friday, Nov. 7 at 1 p.m. at the Forest Hills Volunteer Fire Department. I look forward to the luncheon that honors the men and women who answered the call and protected our nation.
If you are a veteran or know someone who is, please call my Forest Hills office by Oct. 30 at 412-241-6690 to RSVP. I am anxious to meet and speak with all veterans and their families.
Home Heating Assistance
Pennsylvania's Low-Income Home Heating Assistance Program (LIHEAP) will begin accepting applications on Nov. 3.
As fall turns to winter across the state, it is important to take steps now to ensure that you and your family are safe and warm throughout the coldest months. Funds for heating assistance are available but dollars for heating assistance are limited, so apply to LIHEAP early.
To be eligible for the home heating assistance, an individual homeowner or renter must have an income of $17,505 or less. A family of four qualifies if the household income is $35,775 or less. Please call my office at 412 241-6690 to receive a form or stop by any of my districts offices for help in filling out an application.
To apply, customers will need proof of income, social security numbers and dates of birth for all family members and a recent heating bill.
For more information, visit www.compass.state.pa.us, http://www.dpw.state.pa.us/foradults/heatingassistanceliheap/index.htm or call 1-866-857-7095. Residents seeking application assistance can also contact the Allegheny County Assistance Office at 412-562-0330.
Verona Town Hall Meeting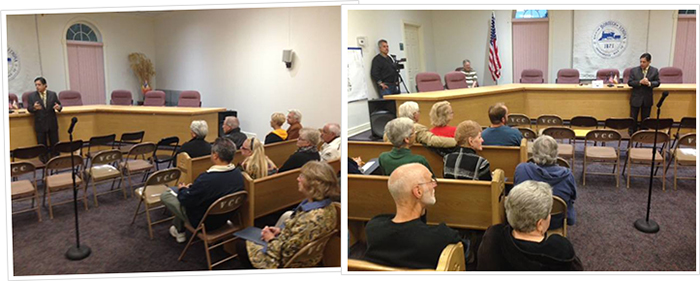 Thanks to everyone who joined me for the recent Town Hall meeting in Verona. We had a packed house and were able to discuss a wide range of issues including transportation, medical marijuana, shale gas extraction tax and job creation.
These forums always provide a great opportunity for us to talk about issues affecting you and your family. If you weren't able to join us in Verona, I hope you will be able to join us the next time we're in your part of town. Stay up-to-date on events and information through my Facebook page, Twitter feed or Senate website.
Election Day, Tuesday, Nov. 4
General Election Day is right around the corner. I hope you plan to visit the polls and participate.
Please remember the deadline to apply for an absentee ballot is Tuesday, Oct. 28. Those ballots must be received by the county election board no later than Friday, Oct. 31
If you need to confirm your registration or locate your polling place, visit the VotesPa website at www.votespa.com.
State Grants Approved for Community Park Rehabilitation
State grant funding was recently approved by the Commonwealth Financing Authority's (CFA) Greenways, Trails and Recreation Program for park rehabilitation. The communities of Forest Hills, Chalfant, Mt. Oliver and the City of Pittsburgh will share in more than $500,000.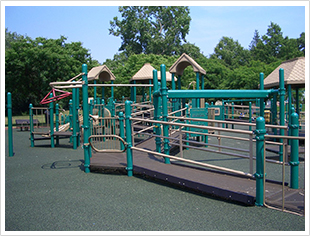 Forest Hills will receive $150,000 to rehabilitate Main Park. The improvements include the repair of a stone wall in addition to the rehabilitation of trails, resurfacing a parking lot, restoring a basketball court and purchase of new equipment. The total project cost is $181,900.
In Chalfant, $50,000 will be used for the rehabilitation of Chalfant Municipal Park. The project involves repairs of playground equipment, safety improvements, upgrading park access, tree and vegetation maintenance, security lighting and surveillance cameras.
The $70,000 grant for Mt. Oliver's Ormsby Park involves adding poured rubber safety surfacing to playground areas, pavilion construction, drinking fountain installation and boosting security by installing a perimeter fence and cameras. The total project cost for the Ormsby Park rehabilitation is $155,078.
In Pittsburgh, the $250,000 grant will be used to help build an environment education facility at Frick Park. The new facility will replace one that burned in 2002. The burned shell will be removed and the new center will be built on that site.
The CFA also approved a separate grant for the Nine Mile Watershed Authority for waterway restoration and stormwater improvements on Batavia and Oakwood Streets in Pittsburgh. The $150,000 grant from the CFA's Watershed Restoration Protection Program will be used to reduce stormwater runoff and sewer overrun into Nine Mile Run.
I was proud to support each of these applications for funding throughout the CFA approval process. Many thanks to our local officials for seeking new and innovative funding avenues which directly benefit our local communities.


Stay Connected
If you haven't visited my Facebook page, join the conversation by 'liking' the page and follow me on Twitter. Lots of information is available on both pages about community events and issues affecting our friends and neighbors. If you have questions or concerns, send me a direct message or post you thoughts.
Offices to Serve You