You're Invited: March 22nd in Pittsburgh, A Conversation on Women in Government, Advocacy and the Private Sector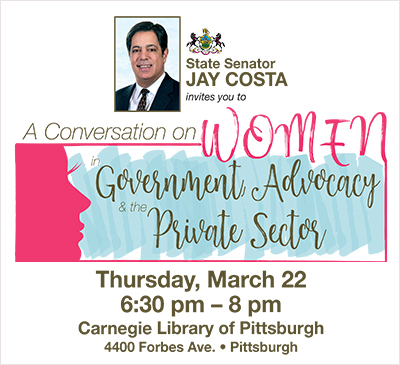 In honor of Women's History Month, I am hosting a roundtable discussion on women in the workplace – whether that workplace is government, a nonprofit, or the private sector. We've assembled an incredible panel of local women, and I can't wait to learn from them.
You'll hear from:
Dr. Jennie Sweet-Cushman, Assistant Director of PA Center for Women and Politics and Chatham University
Heather Arnet, CEO of the Women & Girls Foundation
Marsha Jones, Executive Vice President and Chief Diversity Officer of PNC Financial Services
Sarah Marche, Vice President of Pharmacy Markets, Highmark Inc.
We'll take questions from our audience, and I hope that you'll be there.
This event will be Thursday, March 22nd from 6:30-8:00pm at the Carnegie Library 4400 Forbes Ave., Pittsburgh, Pa.
If you have any questions, call my office at 412-241-6690.

Stay Connected
If you haven't visited my Facebook page, join the conversation by 'liking' the page and follow me on Twitter and Instagram. Plenty of information is available on these pages about community events and issues affecting our friends and neighbors. If you have questions or concerns, send me a direct message or post you thoughts.
Offices to Serve You