Criminal Justice & Safety
A former deputy sheriff, Senator Costa actively promotes public safety and security. He sought maximum penalties for burglary and burglary-related offenses and worked to halt ordinances that penalize residents who call for emergency assistance – particularly in domestic violence situations. Senator Costa has also supported upgrades to child protection laws and the reporting of child abuse. He authored a law that would provide for a life-sentence to those who commit rape or involuntary deviate sexual intercourse when serious bodily injury occurs to victims thirteen years or younger.
Legislation I'm Working On
Initiatives to Improve Policing and Community Relations
In the wake of tragic officer-involved shootings across the commonwealth, and the nation, I am developing and will be introducing legislation to address these situations. I believe it is important that the General Assembly develop and enact legislation that provides improved training for police to know when to use force, particularly deadly force.
Divestiture and Investment Prohibition from Assault Weapon Manufacturers
This bill will require divestiture and prohibit future investments by the Public School Employees' Retirement System (PSERS's), the State Employees' Retirement System (SERS's), the Pennsylvania Municipal Retirement System (PMRS), and the State Treasurer in any company that manufactures assault weapons (such as the AR-15), large capacity ammunition feeding devices, or assault weapon accessories (such as bump stocks).
Assault weapons have become a plague, and the companies that produce them must be sent a message that profiting from the production of military style weapons for civilian use must be stopped.
Increasing Access to School Counselors, Psychologists, Social Workers and Nurses
I am proposing legislation that will provide the necessary authority and resources to enable school districts to help students.  My legislation will help schools evaluate their needs based on school population and provide a necessary complement of school counselors to identify students who may be in need of mental health services and assist students in receiving the assistance they need.
The second piece of legislation would establish a loan forgiveness program for professionals—social workers, psychologists and school counselors.  The intent is to help to provide additional counselors for schools to assist students with their emotional and mental health needs.
Safety is a huge concern for Senator Costa and the caucus, particularly in light of many recent acts of gun violence. Senator Costa and the caucus have introduced bills to:
Divest state funds from the manufacturers of assault weapons
Ban new purchases of assault-style weapons
Require gun owners to carry additional insurance
Expand the list of violent crimes that prohibit someone from owning a firearm
For those who are leaving the criminal justice system, re-entering a community can be difficult, and it's one of the factors that leads to higher rates of recidivism. The PA Senate Democratic Caucus is working to:
Create programs to ease the re-entry process can be enormously helpful in getting a person back on their feet
Reform the expungement process, so that minor offenses can be wiped from a person's record and they don't spend the rest of their lives paying for a single mistake.
"Ban the Box," a provision that prohibits employers from asking job applicants if they've ever been convicted of a crime in the first round of their screening process. Too often, checking "Yes" in that box will automatically disqualify an applicant.
Eliminate incarceration for someone who fails to pay their cash bail. Paying a cash bail is simply not possible for some people, and locking them up for failing to pay that is a policy that punishes them again for not having means.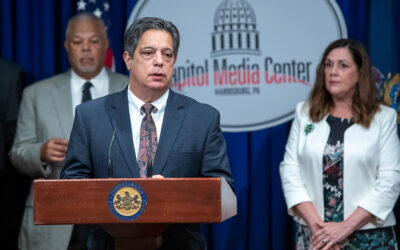 HARRISBURG – May 12, 2022 – Legislation to strengthen Pennsylvania's juvenile justice system is set for action according to Senator Lisa Baker (R-20), Senator Steve Santarsiero (D-10) and Senator Jay Costa (D-43), who have been working to implement reforms needed to...
read more