Over the course of his career, Senator Costa has been a strong, effective promoter of education. Having successfully sought additional funding for K-12 education, higher education and pre-school he is recognized as one of the General Assembly's leaders in education.
The Senate Democratic Caucus has consistently voted for common sense public education improvement initiatives including Pre-K, full day kindergarten, smaller class size and tutoring assistance that have resulted in increased test scores in math and reading for Pennsylvania students. The caucus has worked to include greater funding for community colleges that provide job training and college studies for workers and students close to home.
Legislation I'm Working On
Pennsylvania Promise
The Pennsylvania Promise will be administered by the Pennsylvania Higher Education Assistance Agency (PHEAA) and will cover tuition and fees for recent high school graduates attending one of the 14 community colleges and tuition and fees at a state-owned or state-related university for students with a family income of $110,000 or less per year. Students whose family income is $48,000 or less will also be eligible for assistance with costs associated with room and board.
What Senator Costa & the Senate Democrats have done:
Make a Commitment to Fund Schools at the State Level
Pennsylvania's constitution requires that, "The General Assembly shall provide for the maintenance and support of a thorough and efficient system of public education to serve the needs of the Commonwealth." This is not a requirement that the Legislature is fulfilling. While the Senate Democrats have prioritized education funding and made great strides at increases, we still have not achieved the goal of funding public education by 50% at the state level.
Make Higher Ed Accessible
Higher Education has become integral in today's high-tech, internationally competitive workplace. However, Pennsylvania now has the 2nd highest student tuition debt among the states, indicating a system that is costly and prohibitive to enter. Community colleges and state system of higher education must be made more affordable so that everyone that wants to continue their education past high school has an opportunity to do so.
Ensure that Children are Prepared for School
Early childhood education and pre-K, after school and tutoring programs, nutrition and health supports, among other social services provide an important source of assistance to make sure that children are not just in the classroom, but ready to learn.
Retain Highly Skilled and Experienced Educators
Teachers are the backbone of the education system. They must be protected from vicious and unfair ideological attacks and provided with safe working conditions, reasonable compensation and benefits, and ongoing professional development opportunities so that they remain on the cutting edge of their practice.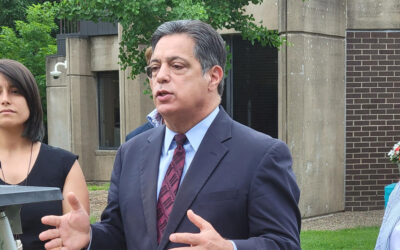 Statewide, PA − June 11, 2021 -- As the projected state budget surplus surged to $3 billion and more than $7 billion in federal aid remains idled by inaction, Senate & House Democrats gathered in front of local schools across Pennsylvania on Friday to call for...
read more