The integrity of our entire system of government depends on the integrity of our elections. The process for electing our public officials has to be fair, accessible and dependable. No matter where you live or what party you're registered with, you should have unbridled access to the ballot box; and once you get there, you should get to participate in a fair election, that means not voting in a gerrymandered district.
Legislation I'm Working On
Campaign Finance Reform
This legislation will comprehensively provide transparency and accountability in our political campaign finance system. The legislation will address the excessive corporate influence in our political system, from both at home and abroad, on our elections, remove the opportunity to take personal advantage of campaign contributions, and protect the integrity and fairness of our electoral process. It would also empower public requestors to challenge a campaign's wrongful denial of access to its vouchers, which are supposed to be available for public inspection, before the Department of State and provide the Department with clear authority to enforce such access through penalties.

Senate Resolution 192 − Free and Fair Elections Concurrent Resolution
When anonymous special interests and foreign governments attempt to exercise undue influence over our federal and state officials, the "consent of the governed" is undermined and the American principle of self-determination is jeopardized. Recent U.S. Supreme Court decisions, including Citizens United v FEC and McCutcheon v FEC, have nullified campaign regulations that protect our democracy and opened the flood gates for dark money and special interests to influence elections.
Senator Costa has introduced a bill to create a commission to draw congressional districts, instead of it being done by the legislature. The commission would be made up of two members of each the Republican and Democratic Party, as well as an independent representative. None of the members shall ever have held elected office or a politically appointed position. This commission would take the politics out of drawing maps and finally make congressional districts fair and representative each time they're updated.
There's more to be done in protecting access to the ballot box, and the Senate Democrats have introduced proposals to:

Secure voting rights.
Secure voting rights for all by cracking down on voter intimidation and onerous Voter ID laws.
Make it easier to register to vote.
Online registration was a huge step forward, and we can make it even more accessible by allowing same-day registration.

Allow people to vote absentee without an excuse.
The list of acceptable "excuses" for voting absentee is too restrictive and discourages people from taking advantage of this legal way to vote.

Campaign finance reform.
The Citizen's United decision from the federal Supreme Court was an abomination that has allowed corporations to have more of a voice in our democracy than its people. Reforms to campaign finance in our state are necessary to make people matter more than campaign contributions in an election.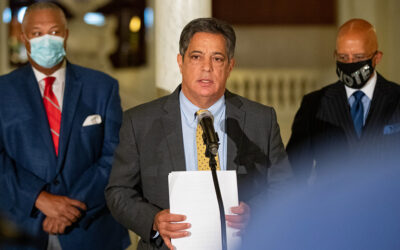 Harrisburg, Pa. – November 19, 2021 − In direct opposition to a statement made three weeks ago, Pennsylvania Senate Republicans have hired a third-party firm to conduct its sham election investigation. In an October 20 article in Penn Capital Star, Senate Republicans...
read more