The centerpiece of the Senate Democrats agenda are jobs, the economy, and providing a just foundation for progress of working people. In recent years, Senator Costa and the Senate Democrats have spearheaded efforts to create and fund job-creating tax credits for film production, mixed use development, waterfront improvement, and attracting tech companies. The caucus has supported historic funding levels for business investment to increase manufacturing, jobs and sustainable future for workers in Pennsylvania.
We want to empower working people to find fulfilling work, earn better paychecks and benefits, and build wealth over their careers that will provide for their families and themselves in retirement. A fair economy that accrues opportunities and rewards for all people, not just those at the top rungs of the economic ladder is achievable.
Legislation I'm Working On
All surrounding states have increased their minimum wage rates, leaving Pennsylvania behind. On January 1 alone, 18 states saw increases, either automatic or planned. Pennsylvania has not updated its minimum wage since 2006, and as a result we now maintain the lowest allowable rate in the country. Keeping people in poverty is not how we move Pennsylvania forward.
The PA Senate Democratic Caucus is working on proposals to:

Increase the Minimum Wage
800,000 Pennsylvanians would see an immediate increase in their paychecks if a modest increase was made, and a rising tide lifts all boats.

Invest in Employees
With unemployment at all-time lows, it is time for all Pennsylvanian's to benefit from the improving economy. Bettering paychecks, benefits, and working environment is at the heart of the Senate Democrats priorities.

Encourage Small Business Development and Growth
Small businesses improve the economy from the ground up, create new jobs, and build wealth at the community level. The Senate Democrats want to foster an environment that provides minor owned businesses with opportunities to be establish and grow that have been previously unattainable. Focused small business loans, access to capital for growth, technical assistance, and employee training support are on the Senate Democrat agenda.

Provide Incentives to Existing Businesses
Whether it's to attract multi-national corporations or provide that last bit of financing for a mid-size company to grow, we must step up to provide the competitive advantage necessary for Pennsylvania to be business friendly. The Senate Democrats have worked hard to make our tax climate more business friendly and provided many tax credits and exemptions to attract and retain companies.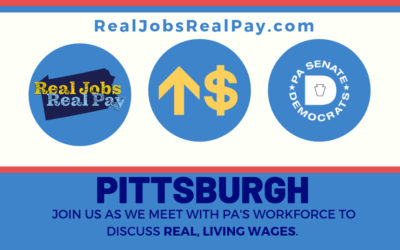 Pennsylvania − May 20, 2019 − Advocates, lawmakers and state officials will participate in tours and a statewide day of action on Thursday, May 23rd with businesses that choose to pay their employees a living wage. Pennsylvania's minimum wage remains at a regional low...
read more