ALCOSAN's Clean Water Assistance Fund
The Allegheny County Sanitary Authority has created the Clean Water Assistance Fund to help families pay their sewage treatment bills. This program serves low-income residential customers in the 83 municipalities that ALCOSAN serves. It is administered by Dollar Energy Fund.
Who is eligible?
The Clean Water Assistance Fund is available to ALCOSAN service area residential homeowners (and tenants who have accounts in their own names) who meet family income limits set by the federal government.
Household Size
Monthly Income
Annual Income
1
$1,508
$18,090
2
$2,030
$24,360
3
$2,553
$30,630
4
$3,075
$36,900
5
$3,598
$43,170
6
$4,120
$49,440
7
$4,643
$55,710
8
$5,165
$61,980
For households with more than eight members,
add $522.50 per month or $6,270 per year for each additional person.
There is an income calculator on Dollar Energy's website at dollarenergy.org.
How much will I save?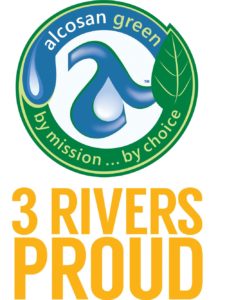 The grant from ALCOSAN's Clean Water Assistance Fund is $30 every three months. The credit will be applied to your account by the agency that bills you for sewage treatment – for example, these bills may come from Pittsburgh Water & Sewer Authority, Jordan Tax Service, Wilkinsburg-Penn Joint Water Authority, your municipality or some other agency. The credits will automatically appear every three months, even if you are billed monthly, bimonthly or quarterly.
How do I apply?
Social service agencies across the region accept and process applications. The list of agencies with contact information is on the reverse side; you may contact any agency on the list. Call for an appointment to apply in person.
You will need to provide a copy of your water/sewage bill, which includes ALCOSAN charges, so take one with you. You also must provide the Social Security numbers of all members of the household and proof of your household's monthly income. If you already are eligible for an assistance program through another utility, you can use that approval to verify your eligibility.
Do I live in the ALCOSAN service area?
The following communities are served by ALCOSAN: Aspinwall, Avalon, Baldwin Borough*, Baldwin Township, Bellevue, Ben Avon, Ben Avon Heights, Bethel Park*, Blawnox, Braddock, Braddock Hills, Brentwood, Bridgeville, Carnegie, Castle Shannon, Chalfant, Churchill, Collier*, Crafton, Dormont, East McKeesport*, East Pittsburgh, Edgewood, Emsworth, Etna, Forest Hills, Fox Chapel*, Franklin Park*, Green Tree, Heidelberg, Homestead, Indiana*, Ingram, Kennedy, Kilbuck, McCandless*, McDonald, McKees Rocks, Millvale, Monroeville, Mt. Lebanon, Mount Oliver, Munhall, Neville, North Braddock, North Fayette*, North Huntingdon*, North Versailles, O'Hara, Oakdale, Ohio*, Penn Hills, Penn Township, Peters, Pitcairn, Pittsburgh, Pleasant Hills, Plum*, Rankin, Reserve, Robinson, Ross, Rosslyn Farms, Scott, Shaler, Sharpsburg, South Fayette, Stowe, Swissvale, Thornburg, Trafford, Turtle Creek, Upper St. Clair, Verona, Wall, West Homestead, West Mifflin, West View, Whitaker, Whitehall, Wilkins, Wilkinsburg, Wilmerding *Only a portion of the municipality is served by ALCOSAN
Call any agency on this list for an appointment to apply for the ALCOSAN Clean Water Assistance Fund.
Allegheny Center Alliance Church
801 Union Place, 1st Foor
Pittsburgh, PA 15212
412-321-4333
Allegheny County DHS/OCS
Human Services Building
One Smithfield Street, 1st Floor
Pittsburgh, PA 15222
800-851-3838
Brashear Association at the Hilltop Y
500 Brownsville Road
Pittsburgh, PA 15210
412-620-8234
Brashear Association's
Neighborhood Employment Center
730 E. Warrington Avenue
Pittsburgh, PA 15210
412-390-3588
Brashear Center
2005 Sarah Street
Pittsburgh, PA 15203
412-431-2236
Catholic Charities – Pittsburgh
212 Ninth Street
Pittsburgh, PA 15222
412-456-6999
Coraopolis Community Development Foundation
1000 5th Avenue
Coraopolis, PA 15108
412-329-8247
Hill House Health Center
1835 Centre Avenue
Pittsburgh, PA 15219
412-697-4697
Holy Family Institute – East Liberty
211 North Whitfield Street
Pittsburgh, PA 15206
412-361-2583
Holy Family Institute – Swissvale
1789 South Braddock Avenue, Suite 585
Swissvale, PA 15218
412-244-8010
Holy Family Institute
Northside Common Ministries
1601 Brighton Road
Pittsburgh, PA 15212
412-322-6588
Holy Family Institute – McKeesport
1500 Fifth Avenue
McKeesport, PA 15132
412-896-4314
Holy Family Institute – McKees Rocks
19 May Street
McKees Rocks, PA 15136
412-331-8665
Homewood-Brushton YMCA
7140 Bennett Street
Pittsburgh, PA 15208
412-243-2900
Jubilee Kitchen
2005 Wyandotte Street
Pittsburgh, PA 15219
412-261-5417
Lincoln Park Family Center
7300 Ridgeview Avenue
Pittsburgh, PA 15235
412-661-1057
Lutheran Service Society
440 Lincoln Avenue
Pittsburgh, PA 15202
412-734-9330
Nabhi Christian Ministries
7060 Lemington Avenue
Pittsburgh, PA 15235
412-983-1866
NHCO – Allison Park
1975 Ferguson Road
Allison Park, PA 15101
412-487-6316
NHCO – Millvale
416 Lincoln Avenue
Pittsburgh, PA 15209
412-408-3830
NHCO – North Boroughs
100 S Jackson Avenue, 2-S
Pittsburgh, PA 15202
412-307-0069
Northern Area Multi – Service Center
209 13th Street
Pittsburgh, PA 15215
412-781-1175
PCSI SouthWest
50 South 7th Street
Pittsburgh, PA 15203
412-904-4710
Penn Hills YMCA
11817 Frankstown Road
Pittsburgh, PA 15235
412-795-2600
Pittsburgh Community Services Inc.
249 North Craig Street
Pittsburgh, PA 15213
412-904-4710
Primary Care Health Services
Alma Illery Medical Center
7227 Hamilton Avenue
Pittsburgh, PA 15208
412-244-4700
Salvation Army – Braddock
300 Holland Avenue
Braddock, PA 15104
412-271-2407
Salvation Army – Carnegie
225 West Main Street
Carnegie, PA 15106
412-276-4757
Salvation Army – Homewood Brushton
8020 Frankstown Avenue
Pittsburgh, PA 15221
412-242-1434
Salvation Army – McKeesport
821 Walnut Street
McKeesport , PA 15134
412-673-6627
Salvation Army – Pittsburgh Northside
100 West North Avenue
Pittsburgh, PA 15212
412-321-0290
Salvation Army – Pittsburgh Westside
1821 Broadhead Fording Road
Pittsburgh, PA 15205
412-921-9780
Society of St. Vincent de Paul
1243 N. Franklin Street
Pittsburgh, PA 15233
412-321-1071
South Hills Interfaith Movement
5301 Park Avenue
Bethel Park, PA 15102
412-854-9120
St. Mark`s Lutheran Church
933 Brookline Boulevard
Pittsburgh, PA 15226
412-344-4222
Veterans Leadership Program
2934 Smallman Street
Pittsburgh, PA 15201
412-481-8200
Wilkinsburg Community Ministry
702 Wood Street
Pittsburgh, PA 15221
412-241-8072
Still have questions? Visit dollarenergy.org or call Dollar Energy Fund at 1-800-375-1388.