Harrisburg, PA – May 3, 2023 − Today, Senator Jay Costa (D-Allegheny) joined legislative leaders and Executive Director Robin Wiessmann to celebrate the creation of the Pennsylvania Housing Finance Agency (PHFA) 50 years ago by the General Assembly.
Today's celebration coincides with the introduction of Senate Bill 679 by Senators Costa and Michele Brooks (R-Crawford). The legislation amends the Tax Reform Code to increase the cap on the amount of available tax credits under the Mixed-Use Development Tax Credit (MUDTC) Program from $4.5 million to $15 million.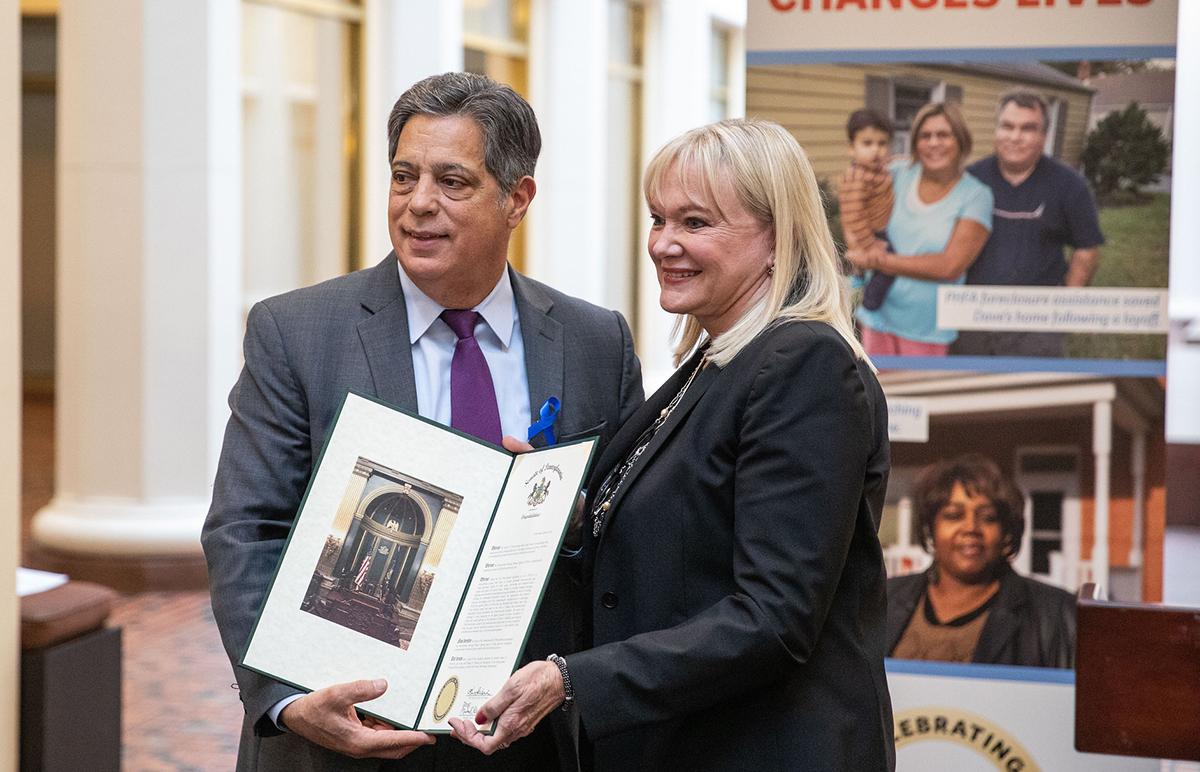 MUDTCs are used by the PHFA to fund the development of projects in targeted areas of the Commonwealth that are often underserved and have significant need. The program is intended to provide support to developers and organizations that are committed to increasing affordable housing and commercial corridor development through the rehabilitation or creation of mixed-use developments.
"In its short time since the Mixed-use Development Program was established in 2016 the program has been enormously successful," said Senator Costa. "Each year, interest in the tax credits and applications for development have greatly outpaced their availability. By increasing the available credits, we will further jumpstart essential investments in mixed-use development around the Commonwealth. The MUDTC Program is another tool in PHFA's toolbox for ensuring that there is a safe, affordable home for every Pennsylvanian."
PHFA is tasked with providing affordable housing opportunities to seniors, low- and moderate-income families, and individuals with special needs through mortgage assistance programs. It also provides financing and funding for the development of community projects, multifamily housing, and mixed-use projects and provides a wide range of housing services.
"This Mixed-Use Development Tax Credit Program has been extremely beneficial to the 50th Senatorial District," said Senator Brooks. "In the past three years, it has benefitted all three counties I represent, providing funding for the Titusville Iron Works in Crawford County, the Wright Project in New Castle, Lawrence County, and the Flats Center in Sharon, Mercer County. I fully support this revitalization program as I have seen the benefits communities reap. This is only one of the successful and vital programs that PHFA offers to better the citizens of Pennsylvania."
Over the 50 years since its establishment by the Legislature, the Agency has assisted in the purchase or refinancing of over 191,800 homes, saved over 50,000 homes through the Homeowners' Emergency Mortgage Assistance Program (HEMAP), and helped develop over 100,000 affordable rental units.
#####